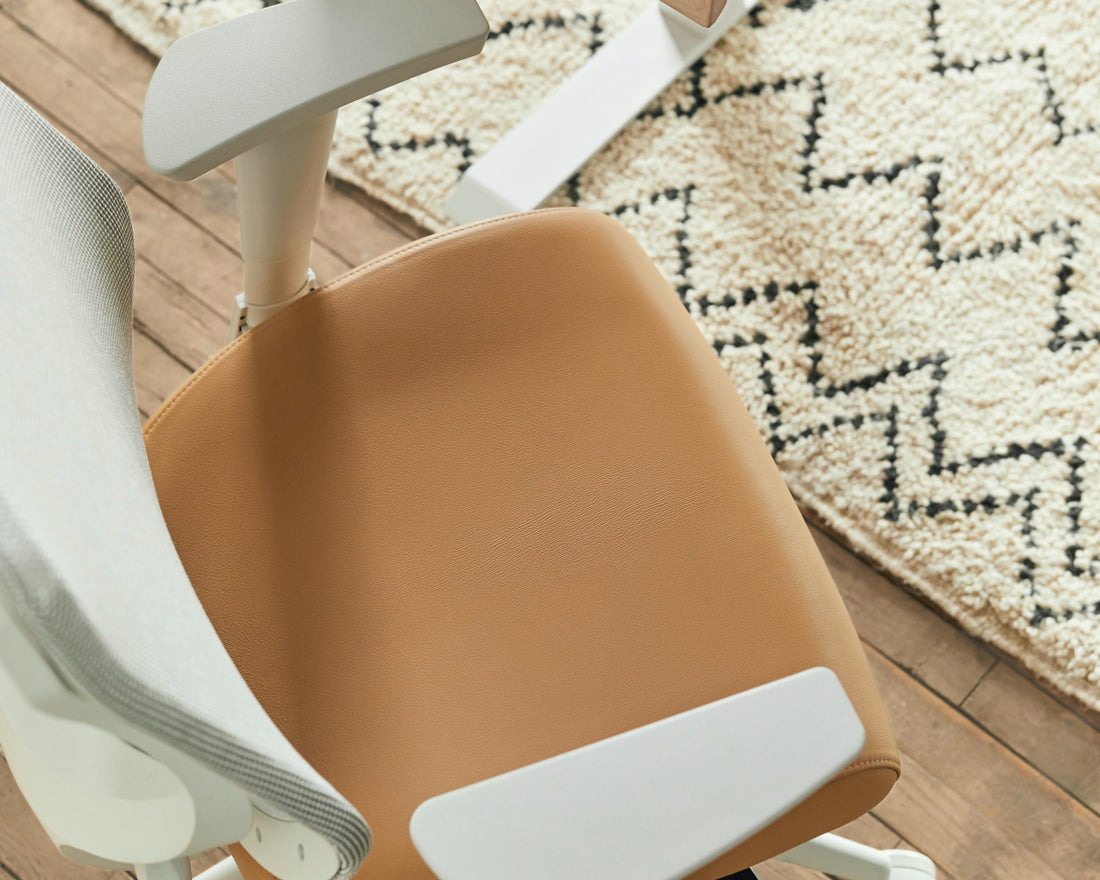 Can A Bad Office Chair Cause Back Pain?
Working for extended periods of time in the same office chair every day for the entire week can come at the expense of your comfort and wellbeing. Sounds a bit dramatic, but, there's truth to it. The wrong office chair can be detrimental to your body, contributing to poor posture, uncomfortable working conditions, and eventually, pain or injury.
It's already hard enough that you're working late hours in the office, but as you're heading home, you can't help but feel uneasy and uncomfortable.
So, can office chairs cause back pain?
As you start to get your mind off work, you realize the sudden, aching pain in your back that's undoubtedly caused by your chair. As simple as it sounds, a bad office chair can usually take quite a toll on your physical as well as mental wellbeing. 
Today, we'll explain why bad office chairs contribute to whole-body pain - including back pain. We'll explain how you can quickly and easily fix the issue to enjoy a comfortable, pain-free workspace. Let's start with what makes a "bad" office chair.
What Makes A "Bad" Office Chair?
A comfortable, ergonomic chair can help you get rid of back pain and improve your posture. A number of factors may help you determine if the office chair you're currently using is a good one or "bad." 
So can office chairs cause back pain? How?
The presence or absence of these factors will help explain why.
No Ergonomic Support
The backrest of your chair is a critical factor in determining whether your chair is of good quality. If the backrest is comfortable and does not put pressure on your back, then you're probably using a good office chair. The backrest of your chair also needs to be somewhat flexible. You need to be able to move back and forth freely so that you don't feel confined or constricted. A good office chair is one that supports the natural alignment of your spine. But, ergonomics is far more than just the backrest.
We consider an office chair "bad" if it lacks ergonomic support for your hips and knees, elbows, and the rest of your body. A "good chair" should have quality armrests and a headrest, too.
Simply put, the more restricted your movements are and the more unnatural your seating position is, the more uncomfortable you're going to feel. This is one way to distinguish whether you're sitting in a bad chair or not.
Creaking
If you've been using the same chair for a while, your chair is likely making creaking sounds. These creaking sounds suggest that you're probably using a bad chair, and you're due for an upgrade.
This is because creaky, annoying sounds coming from your chair can really affect your concentration levels. Constant creaking means that you'll have a hard time focusing on getting work done. Moreover, if the chair is creaking - the ergonomics and support have likely worn down and aren't providing you the comfort you deserve. Time for an upgrade!
Uncomfortable Materials As A Result Of Age
The material of the chair is a key factor dictating the comfort of a chair. It is very unlikely that you'll find a wooden chair in this day and age, but some companies still use wooden chairs for their employees. It goes without saying that wooden chairs can be extremely uncomfortable to sit in, especially for extended periods of time.
A comfortable office chair is normally made out of faux leather, leather, mesh, and/or fabric. The arms and legs of the chair have a carbon fiber construction that really enhances the durability of the chair.
Some companies even use raisin chairs that have hardwood construction. These types of chairs are usually uncomfortable. While they do provide cushioned seats for comfortable seating, most raisin chairs don't have any back support and their backs are completely made out of wood.
Bad padding
The foam inside the chair is also an important factor in determining the quality of a chair. If your chair doesn't have sufficient padding or foam, you're likely to feel uncomfortable and over time, develop back pain. There shouldn't be too much foam either, because that can result in pain in the hips over time, too. Bad padding can also cause hip pain when the surface of your seat is too stiff.
So,
Can A Bad Office Chair Cause Back Pain
?
You now understand what makes a bad office chair. It's time to address the main question at hand today - can a bad office chair cause back pain?
Yes. A bad office chair can most definitely cause back pain.
One of the reasons for that is when you're sitting in an uncomfortable chair, you tend to lean forward, and that puts added pressure on your back.
Slouching can lead to strained discs and ligaments, which can, in rare cases, even lead to permanent hunchback. However, sometimes it's not just the chair's fault that you have back pain, but also your poor posture that causes further strain. With that said, let's take a look at what the medical professionals have to say on the matter.
What Medical Professionals Say About Bad Office Chairs & Back Pain
Medical professionals emphasize the importance of good back posture. They agree that bad office chairs can be detrimental to your spine and create stress in your lower back.
If you're working long hours, it is best to invest in a comfortable chair that helps support your body and doesn't cause discomfort.
How A Quality Office Chair Can Help Reduce & Prevent Back Pain
A good quality office chair will help you feel considerably less pain than when you were using a poor quality one. Its ergonomic construction will relieve the stress on your back, while effectively uplifting your mood. You'll also be able to work better and more efficiently.
Proper Ergonomic Design Supports Your Spine Naturally
A proper ergonomic design will inevitably help support your spine. Its adjustable features will help you move forward and backward freely, preventing your back from getting stiff. 
Comfortable Materials Keep Your Pain-Free All Day Long
Comfortable materials really help you relax while working. They ensure that you don't experience any pain in your back during or after work hours.
When you're uncomfortable and in pain, it negatively impacts productivity.
Other Benefits of a Good Ergonomic Chair
The benefits of a good ergonomic chair aren't just limited to eliminated back pain. A good ergonomic chair really helps increase your work productivity. When you're free from any external stressors like back pain or discomfort, you'll really be able to focus on your work.
A good chair not only helps you feel comfortable during work hours, but also helps you stay active after work hours. Usually, the discomfort you feel because of a bad chair is when you're done with the work and you're heading home. That is when the back pain really starts to take a toll on your physical wellbeing. Thus, a good chair will help prevent discomfort even after your work hours.
Where to Get A Good Office Chair That Won't Cause Back Pain
Finding a quality office chair can be challenging, especially since are an overwhelming number of options out there. If you're looking for the perfect balance of comfort, durability, and affordability, look no further than ErgoTune.
At ErgoTune, you'll find the best ergonomic chair in Singapore. We also have comfortable chairs and relaxing chairs. Here are a few things that make our chairs so special:
Built in lumbar support - At ErgoTune, you'll find that our chairs offer built in lumbar support which really helps take the stress off your back. We offer adjustable support tension that helps your body feel relaxed and comfortable. Our chairs are designed to support the natural curve of your spine.
Neck Support - We can understand how an uncomfortable chair can be very stressful for your neck but we're here to offer support for your upper spinal columns. Our chairs offer 4 axes of adjustment for a good that suits your neck.
5D Armrest - Our 5D armrest helps fully support your arms so that you can comfortably spend hours typing, gaming, or performing any other desk activity.
Can Office Chairs Cause Back Pain
? Wrapping Things Up
You've probably gotten your answer to the question, "Can a bad office chair cause back pain?". The answer is a resounding yes.
A good office chair can help you comfortably get work done without having to worry about any stress on your back. It will help you be a lot more productive as you can concentrate better on your work.
In this case, ErgoTune has the best office chairs available for you that will relieve you of any stress that you may have previously faced. So, check our collection today and place your order!